The Advantages of Dermatitis-Ltd III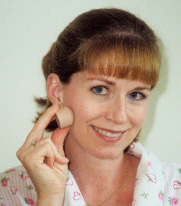 Gently glide the disk over affected area
Dermatitis-Ltd III is an excellent treatment for psoriasis or eczema.
There are multiple reasons to choice
Dermatitis-Ltd III
over the alternative which is steroids, harsh medicines, and unnatural treatments that can potentially make the condition worse. Below we have listed many positive attributes associated with using
Dermatitis-Ltd III.
User Friendly. Dermatitis-Ltd III is simple and fast to use. After you wash the affected areas, be sure to leave them wet - just glide Dermatitis-Ltd III across the affected dermatitis skin areas. The design of Dermatitis-Ltd III makes it easy to carry in a purse, pocket, or backpack when you're going to work, to school, or on vacation. However, most often it will be used at home in the early morning and at bedtime, or any time at your convenience such as while watching television.
Dermatitis-Ltd III is safe for pregnant women and nursing mothers. There are only no side effects. The are amazing wonderful improved effects of using Dermatitis-Ltd III as the skin can easily began to repair itself after several days of use and be noticed by the dermatitis patient after several days. There are most notable improvements after] two weeks and even more after a month. Then more improvement in healing is noticed as three or five months have past. It may seem slow, but in comparison to the months or years of the past with miserable appearing dermatitis skin, the results are most comforting to the patient.
Dermatitis-Ltd III is also very pleasing to the senses. The smell of Dermatitis-Ltd is difficult to detect, which unlike many conditioners that are heavily fragranced or that smell "medicinal". The only way to detect any smell of the product would be if an individual were to hold the product or an area of conditioned skin 1-2 inches from his/her nose which is the distance at which you can smell a baseball or pencil. Dermatitis-Ltd. is also practically invisible after the application. Also it penetrates into the skin to do the job it was designed for without any greasy product to be noticed or to stain your clothes or bed linens. And it does not cause redness like many medical products. Always avoid steroids.
High percentage of concentrated product. Dermatitis-Ltd III contains natural ingredients already in your body as that is what your skin needs to heal. The natural ingredients are: zinc oxide, sodium chloride, magnesium stearate, polyethylene glycol, iron oxide, copper oxide, and sulfur. Sulfur is used externally only and is not to be confused with sulfa which is taken internally. None is used for Dermatitis-Ltd as it is more than 99% undiluted mineral conditioners in and of itself.
Quick Results:Those patients using Dermatitis-Ltd III notice a large improvement in their skin from a few days of use to two weeks of use. The dermatitis patient will see even more improvement within 30-40 days of use.
No bacteria resistance. The ingredients of Dermatitis-Ltd III are effective in killing bacteria on the skin. Mutation of bacteria cannot become resistant to the natural ingredients as they are not synthetic drugs. The shelf life of the ingredients is 10 or more years. The result is that an effective treatment of skin conditions can be solved with Dermatitis-Ltd III without th use of antibiotics. Help guard against resistant bacteria by saving the strong antibiotics for emergency situations of personal wound injuries or severe organ infections.
Most patients with dermatitis skin condition have spent much money over the years. Dermatitis-Ltd III has a cost that you will be shocked after seeing your skin improvement as it is only $98.00 and with a 100% refund policy within 120 days if 'you are not happy for any reason' or for 'no reason'. Think of your time for the dermatologist and for your prescribed medication over the years in comparison to $98.00 and without a refund policy. You may have spent many hundred dollars and many years searching for Dermatitis-Ltd III, but have now found it.